Message from our CEO
"With the world in lockdown, our industry at a standstill and many of us in self-isolation or quarantine at home, we wanted to focus on positivity and a light at the end of the tunnel. Although it is tough to predict when we will get there, we believe in the strength, resilience and heart of the travel industry. Long Live Travel ❤."  
– Brett Dyason, Co-founder and CEO  
How did we respond to this crisis?
With many projects coming to an abrupt halt, we're using the time for introspection and planning for the arrival of the new-look travel industry. Very fortunate to be able to operate remotely, we shifted our focus to our technology and product suite, identifying future traveler and travel company needs.  
We are sourcing new ancillary suppliers to add additional content to our product suite, which may serve our partners a wider range of value added products and services, increasing their travel ancillary revenue.  
One of the few positive aspects from the shutdown period has been the reduced environmental impact. We think that this should continue with increased consciousness when the travel industry emerges from its slumber. We're excited to be partnering with an innovative company that turns carbon emissions into rock, allowing travelers the option to contribute towards offsetting their carbon footprint. 
Long Live Travel
Executive Summary 
The outbreak of Coronavirus COVID-19 presents the tourism sector with a major and evolving challenge as it is an unpredictable and unprecedented period. There are many questions, not only relating to restrictions or lockdowns, but also around how this experience may change customer behavior in the long term? 
Long Live Travel 
The travel industry represents 10% of the global GDP, an $8 trillion industry. Governments have taken precautions with bailout packages that will assist various companies, including some in the travel sector. Travel companies have also taken immediate cost cutting actions to survive during this period, at least until demand increases. 
UNWTO estimates international tourist arrivals could decline by 20% to 30% in 2020 as a result of COVID-19. This would translate into a loss of 300 to 450 US$ billion in international tourism receipts – almost one third of the US$ 1.5 trillion generated globally.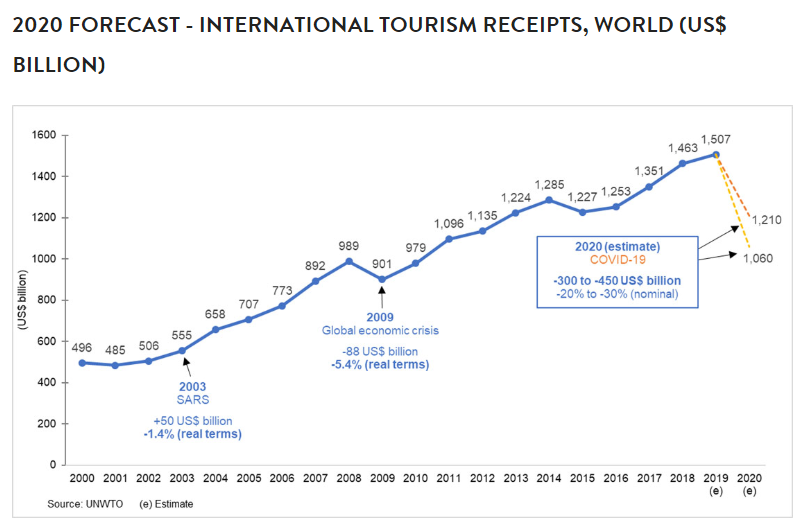 But not all is doom and gloom! 
The positive part is that China seems to be on the road to recovery with restrictions beginning to lift and the demand to travel starting to climb. Research conducted by travelandmobility.tech tracked the Travel and Mobility app downloads in China week-after-week for a 3 month period. The results are promising and provide some much needed hope for the industry.  
After 6 weeks of consistent decline, China experienced a spike in demand as locals begin to their plan trips to start travelling again. Of course China has managed to contain the virus quite successfully, so it remains to be seen whether others are able to emulate and what the trigger event will be for travel restrictions to be lifted.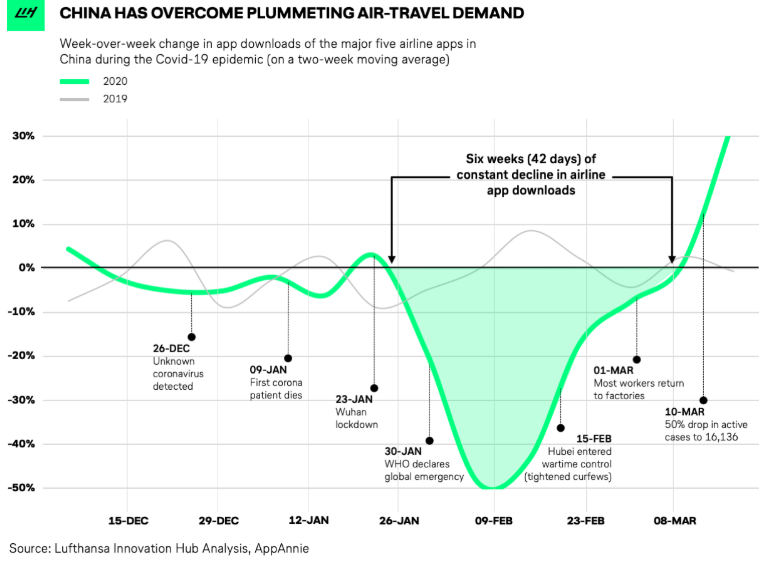 Fortunately for the travel industry, quarantined life is likely leaving most people consumed with wanderlust. Many will be searching for those indescribable feelings of happiness, rejuvenation, relaxation, exploration and discovery that only travel can offer. Another study conducted by Luggagehero indicated that "More than half of Americans (58%) are planning to travel between May and September 2020, as long as their destinations aren't in quarantine."  
The whole COVID-19 experience will likely lead to a change in the dynamics of travel demand. After this period, it is expected that travel will likely begin to increase in options which seemly have less exposure, i.e. road trips instead of cruises and domestic travel instead of international travel. It is likely to have different responses by generations; while millennials may have less fear and tend to travel more distant routes, older generations may be more cautious and stay closer to home. It may also have an impact on customer purchasing behaviour, as a large shift from traditional to online booking is expected along with increased awareness on products covering risks before and during travel.  
While there may be a lot of unknowns, one thing is for certain. Over the next few months, all travel companies will be focusing on their revenue maximisation strategies. All travel companies will be closely monitoring their cashflows and commercial structures, whilst planning actionable steps to optimise and accelerate all revenue streams.