From the editor
In the highly competitive travel industry the answer to differentiate brand, service and product offering from competition is through personalisation. Attracting and retaining customers is a vital part of any business. This can be achieved through a targeted marketing strategy with clear personalisation objectives. Providing selective content that is more relevant to the customer's individual preference and circumstance reduces unnecessary website noise and decision-making. Not only does this increase booking conversion, but focuses decision-making on the products and services that have a realistic chance of being purchased.
Research conducted by Amadeus shows that "86% of travelers are receptive to personalised offers, which highlights the need for incentives that match the person they're issued to". The ease and accessibility that the internet allows has left consumers spoilt for choice and has broadened the consumer perspective of what is available, increasing the demand for and attractiveness of unique offers.
Using your face?
Recent science fiction has fast become everyday life with the development of AI biometric technology, now finding application in the travel industry. The use of facial recognition technology is on the rise, whereby biometric artificial intelligence is used to identify and validate an individual's identity using only their face. This has proven both useful and valuable in the travel industry for the following reasons:
Personalisation: By being able to identify faces in real-world environments that correspond to those on a database, companies are able to identify people swiftly and tailor services to those people.
Data Analysis: Facial recognition technology can potentially be used to identify gender, age estimates and mood. This can then deliver reliable information about the demographics of customers and how they respond to different locations and services. This gives businesses deeper insights and helps them to accurately pick out important trends.
Payments: MasterCard have experimented with a 'selfie pay' system. Payments can be confirmed using a smartphone camera, with the image being matched to one in a database.
Security: Facial recognition can be used to verify the identity of a guest and grant them access to a hotel room, gym or other hotel facility. These scanners are already being used at airports to better streamline security.
Going back to basics
Executive summary:
The concept of "personalisation" has been touted by travel marketers so often in the last few years that most would agree that it's become a bit overused. However, in truth many companies are still struggling to achieve true personalisation. The Skift and Adobe 2018 Digital Transformation report noted that "only 36% percent of travel executives rated their company's current personalisation efforts as a four or five on a scale of one to five". This is concerning for travel companies considering the rapid developments of technological trends and rising digital travel sales.
Brands will find it challenging to thrive in an increasingly competitive market while offering a standard one-size-fits-all offering. Travel is deemed an emotional activity which emphasises that it is not a 'one size fits all experience'. It is characterised by unique interests, decision-making and behaviour of consumers faced with ever-increasing options in a hyper-digital era.
According to Skift and Adobe's 2018 Digital Transformation Report, digital travel sales are projected to reach $219 billion by 2021. It is therefore crucial to leverage data from every interaction with a customer in order to create a complete view of needs throughout the customer journey. Where travel companies are lacking digital/technical expertise it is worth investing in partnerships with technology companies who focus on personalisation as an optimisation tool, where relevancy and delivery is priority. Travel companies need to adopt best practice in order to make their personalisation objectives tangible through:
Identify and utilize the right data: Use a mix of first and third party data to ensure data is of highest quality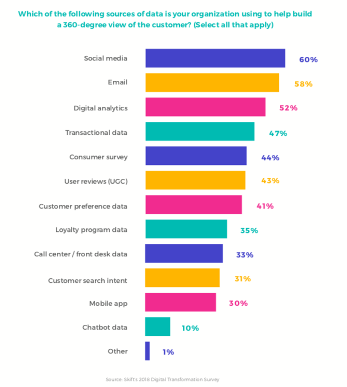 Utilizing technology to deliver rich personalisation experiences at scale: Select the right technology tool or partner to implement personalisation.

Top performing companies are three times more likely than their peers to have invested in an integrated, cloud-based technology stack.

Partnering with the correct technical skill: Develop your team's skills to extract meaningful insights that lead to better personalisation. Alternatively partner with a technology company that has the skills and expertise to deliver personalisation.

Progressive engagement: Extracting first point of contact, continuing to learn from every interaction to build an understanding of every single customer. Start investing in data gathering sooner than later to enjoy compound returns.Employing personalisation into a company strategy helps companies tailor the process and ease the journey so that the customer feels accommodated. Satisfying customer need and purchasing experience is important, but so too identifying what happens after purchase, as this period suggests whether a lasting relationship can be built with the customer. Personalisation plays a key role in determining the impact a company has on a consumer, especially when considering the transition from a one-time customer to a loyal customer. The benefits of cultivating a brand-consumer community outweighs thinking about a consumer as just a transaction recorded on a database.