The Recovery
Covid-19 has been the worst crisis that international tourism has faced since records began.  According to the United Nations specialised agency, the crisis could lead to an annual decline in revenue between 60% and 80% compared to 2019. This means a decrease of 850 million to 1.1 billion international tourists and a loss of US$910 billion to US$1.2 trillion in export revenues from tourism.
Although some regions are beginning to experience the early stages of recovery, the majority of the industry expects to see signs of recovery by the final quarter of 2020. Based on previous crises, leisure travel is expected to recover quicker than business travel, particularly travel for visiting friends and relatives. With the world adapting to remote working, corporate travel may no longer be as frequent.  
Reviewing Your Ancillary Revenue Strategy
With many companies entering the early stages of recovery and new market entrants possibly eyeing this as an ideal time to launch, their ancillary revenue strategies are being reviewed. We wanted to share the latest updates on our value proposition with widened product scope and advanced optimisation features which will help you boost your ancillary revenue with reduced implementation and maintenance cost.  
Click here to watch Hepstar's demo. 
When will international
flight sales recover?
Although there is an increase in the number of flights, when exactly will we see numbers like before? It is not possible to predict this, but current scenarios point to  declines in arrivals of 58% to 78% for the year. These depend on the speed of containment and the duration of travel restrictions. The following scenarios for 2020 are based on three possible dates for the gradual reopening of international borders. 
Scenario 1

 (-58%) based on the gradual 

re

opening of international borders and easing of travel restrictions 

from 

early July

.

 

Scenario 2

 (-70%) based on the gradual 

re

opening of international borders and easing of travel restrictions 

from

 

early September

.

 

Scenario 3

 (-78%) based on the gradual 

re

opening of international borders and easing of travel restrictions 

from

 

early December

.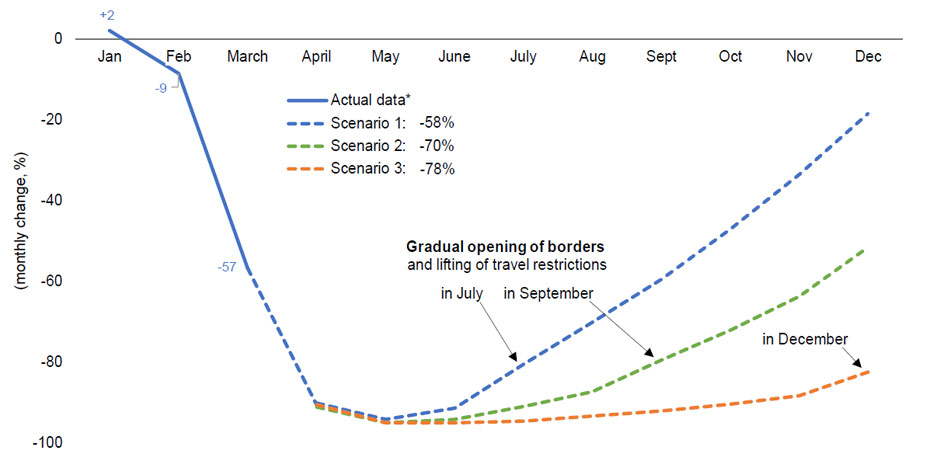 With travel slowly starting to resume, there is increased focus on identifying new ways to increase revenue and optimise operational efficiency in the aftermath of the crisis. Given the current environment, ancillary revenues have evolved into core revenue streams for travel companies to survive.
Sourcing and implementing various travel ancillary suppliers is a time consuming and resource intensive process. Two things that are quite scarce during the times of Covid-19. Hepstar provides ease of access to an ever-expanding product portfolio, with lucrative commissions on offer, all through one integration. 
Hepstar achieved remarkable success by increasing one of its partners' revenue by almost 500.000 USD by leveraging its supply network to introduce new products and expand to new markets across 5 continents. This was an effective uplift of more than a 50% in the partner's average revenue per booking.   
Interested in learning more about the ancillary revenue you could earn? Click here to contact us for a quick revenue estimate.